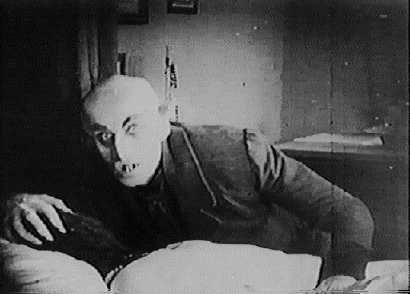 Saw Nosferatu last night, the 1922 German silent film. The movie was accompanied by a live soundtrack composed and performed by Mood Area 52 and shown in the Mission Theater, a smaller venue with the twin advantages of having both beer and an awesome balcony. Several people were wearing top hats and corsets and the like, and a mood of delightful retro-ness carried the evening. The movie itself was great. There were three things I liked about it:
1: Count Orlok is an evil sonofabitch. No vampiric torment here, just creepy, carnivorous, awesomeness.
2: Nosferatu is Dracula, for the most part. The studio wasn't able to get the rights from Stoker's widow, though, so they just changed the names of the characters and kept the exact same plot. The blatant off-ripping is kind of hilarious.
3: In modern vampire fiction, vampires always have to live beside their fictional counterparts. There is usually an expository scene where a character (usually a vampire or vampire hunter) explains what works and what doesn't, differentiating the "reality" of a given piece of fiction from the common cultural effluvia that accompanies vampires. (My favorite scene of this nature is probably when Kris Kristofferson says "Crosses don't do shit" in Blade.)
Nosferatu didn't have a scene like that, and it was kind of refreshing and sort of weird to see. The vampire was presented as something new and alien, which is wholly different from how we see him popular culture. We're inundated with vampires, drowning in them, and the characters in modern fiction inhabit the same vamp-soaked world where everyone has seen at least three different versions of Dracula. Nosferatu isn't like that at all, and it was very cool seeing a familiar face presented as something so novel. Vampires are cliche now, but this was where a lot of those cliches come from, this was the root of so much else. Despite the prevalence of vampires, Count Orlok still seems uniquely monstrous, and the creators of Nosferatu, even as they ripped off Dracula, created something that still seems fresh.